What length should my longboard be for dancing and freestyle tricks?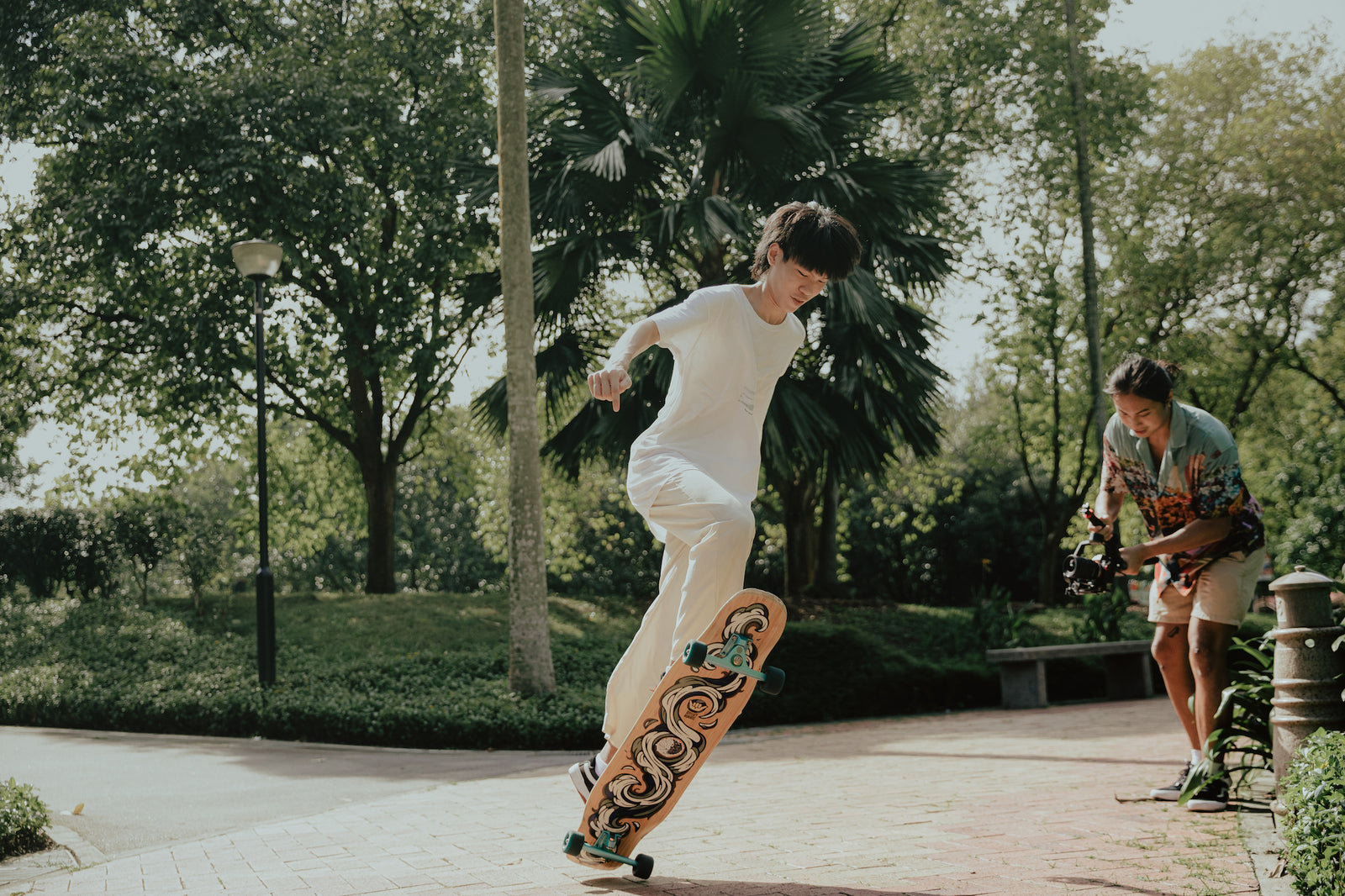 A longboard for freestyle and dancing typically ranges between 42 inches to 46 inches. Depending on your riding style, your longboard length can vary quite drastically from others. But how do you pick the right length? Let's find out in this blog post.
What length for longboard freestyle?
Longboard freestyle involves popping and aggressive tricks. To achieve these tricks, riders typically gravitate towards shorter longboards, ranging from 42" to 44". Shorter longboards are generally lighter, and have less inertia when rotating during freestyle tricks.
Furthermore, lighter longboards are more durable towards hard-hitting tricks. I'm sure you've heard the saying "the bigger you are, the harder you fall". As freestyle tricks involve height and aggressive landings, lighter decks have less momentum when landing. This gives it an added bonus in durability for freestyle tricks.
We've specially constructed 42" decks just for freestyle tricks. Made from our proven construct of vertically laminated bamboo and premium Canadian maple, our decks are small but durable.

Nahoa 42" Longboard
What length for longboard dancing?
Longboard dancing includes stepping along the deck and spins. You guessed it - dancing is much easier on a longer deck as there's more room to move around. This allows greater stability and confidence in more advanced dancing. To achieve this, longboard dances are inclined to 46" decks.
Longer decks also mean wider wheel bases. A wheelbase is the distance between your inner bolts of each truck. With a wider wheelbase, your board carves much more gently and this creates a smooth, flowy carve when dancing on your longboard.
A word of caution - a deck's weight gets exponentially heavier with its length. This is because additional layers are required to stiffen the longer distance between the trucks which tends to sag, if not done properly.
If dancing's your thing, make sure to check out our 46" Hurricane Longboard. This longboard has been reinforced with TWO layers of triaxial fiberglass (that's the materials used to coat some cars), achieving the desired stiffness without being too heavy.
So... what longboard length should I get?
If you're still reading this, chances are you're still unsure what you'll gravitate towards. Here's another factor which might help you make your decision: Do you prioritize stability, or convenience?
If you want your ride to be as stable as possible, whether when doing tricks or cruising, a 46" longboard will be your best pick. But if you want something easier to carry about and lighter, choose the 42" longboard.
We're here to help.
Still have more questions? Reach out to our friendly team via the Facebook chat you see at the corner of this browser. Alternatively, drop us an email at theodysseycollective@gmail.com.
Stay safe and spread the stoke! 
---