Exploring Singapore on a Longboard: Stadium, Marina Bay Sands, CBD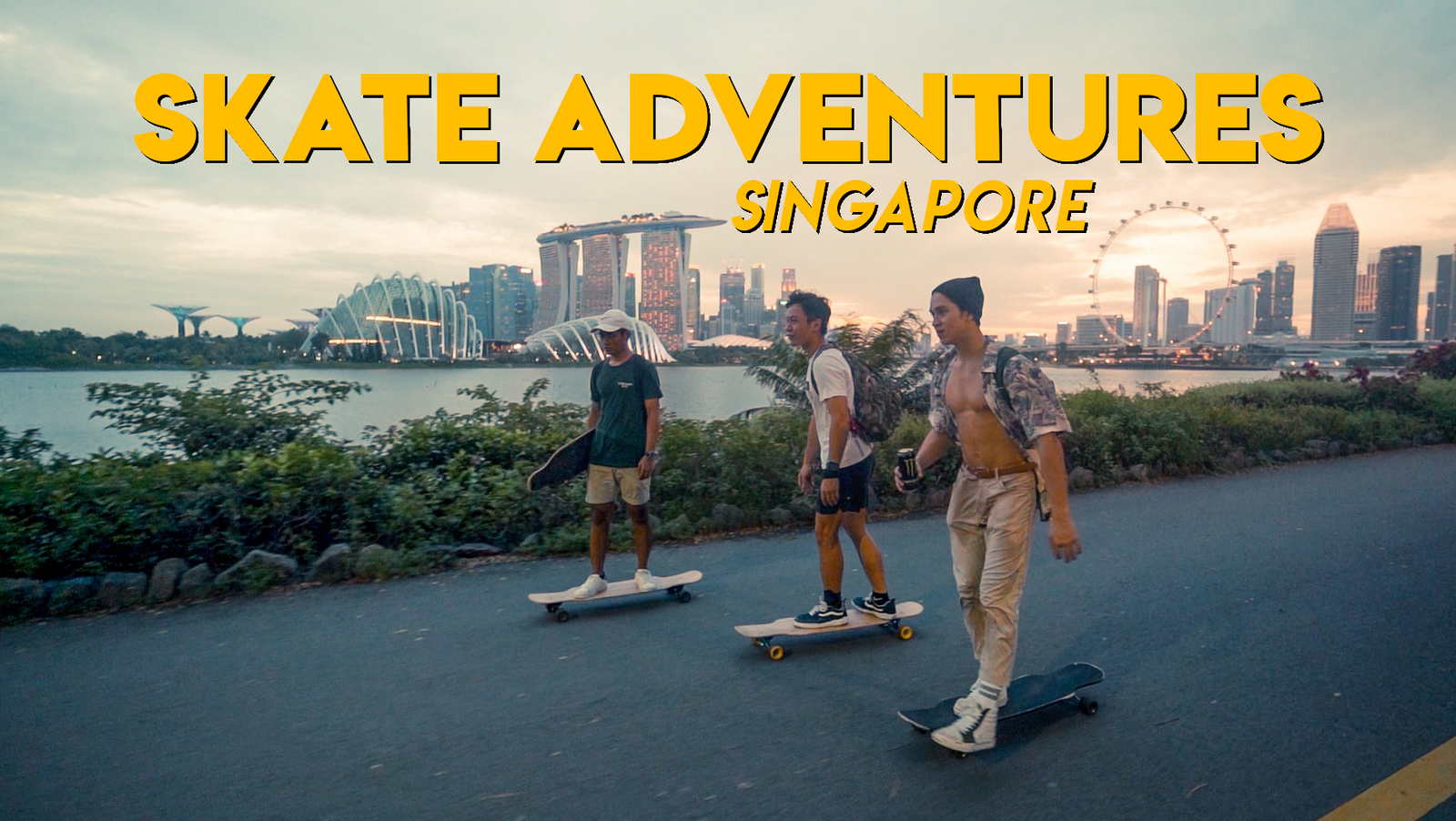 Since we're stuck in Singapore during this period, the team at Odyssey Boards figured we'd explore Singapore on a longboard. Cruising around Singapore on the Nahoa Longboard proved to be one of the best experiences so far. From our list of places to longboard, we decided to start off with Kallang PCN! Stay with us until the end to get a summary of the spots! 
Spot A: The National Stadium
We began at the National Stadium, and soon found ourselves at a spot we couldn't resist getting some lines in: The Stadium Fountain. It felt like an escape from Singapore - we were surrounded by water bodies, and the sunset was amazing.
After getting some lines in, we began crossing the Tanjong Rhu Bridge and cruising along the Tanjong Rhu Promenade. Across the Promenade you'll see the Stadium from afar. We've never realized how big the Stadium is until we took a step back to admire it's sheer size! If you cruise here when the sun is setting, you'll be amazed by the beautiful skyline. Don't take our word for it, go down yourself and soak in the atmosphere! 
Spot B: Sheares Bridge
After a short ten-minute cruise, we reached the open area under Sheares Bridge, which is an awesome spot to practice your skating! And if you love dogs, you're in for a treat - dog owners are always walking their dogs past this spot. No harm petting some good bois while you're skating! Of course, given the view and the open space, it's the perfect spot for a picnic as well.
With the sun setting, we started making our way to Marina Bay Sands. This will be a longer route and will be filled with cyclists, so stay alert while you're exploring the area! Fun fact: One of the founders got knocked over by a bicycle at full speed here a while back. Watch the full video to find out more! 
15 minutes of skating later, we reached the Marina Bridge. Crossing it led us to the Marina Barrage, which felt like a whole new area to explore after going through the park connectors. If you and your friends ever feel tired from the journey, we suggest taking the elevator up to the open space to have a quick picnic! 
Source: NowBoarding
After exploring Marina Barrage, we took a turn to my personal favourite spot: Gardens By The Bay. Gardens By The Bay is an urban nature park spanning 110 hectares, but unfortunately skating is not allowed within its premises... Hopefully one day it'll open up to everyone, fingers crossed! Soaking in the amazing sunset gave us a much-needed boost to head to Marina Bay Sands, which was our second last stop for the night.
Spot C: Marina Bay Sands
Ah… MBS, the pinnacle of Singapore's evolution from a third to first-world city. At its opening in 2010, MBS was billed as the world's most expensive standalone casino property at a whopping… S$8billion! Based on my quick maths, that gives you 45,197,740 Nahoa Longboards. Anyway, this is one of our most favorite spots to skate - each time you look up you'll be greeted with the magnificent view of our CBD - truly a refreshing break from the fatigue of skating.
Spot D: Lau Pa Sat Hawker Center
With our final skate session clocked in, we made our way to Lau Pa Sat Hawker Center, which is right in the heart of Singapore's Central Business District. There are a few dishes you MUST NOT miss out on when you're there:
Sugarcane juice

Satay from Stalls 7/8

Prawn Noodles from Seng Kee Local Delights

Beef Noodles from The Beef House
And… that's a wrap! 
This route will take you around 2 hours to fully explore, knock out some sick lines, and to have a delicious meal. Here's an overview of the locations we covered: 
This wraps up our first skate adventures, to show you how to rediscover and explore Singapore. Whether you're a local or a potential visitor from overseas, feel free to hit us up if you ever want to skate. Hang loose and keep spreading the stoke fellas! 
---