5 reasons why you'll love longboards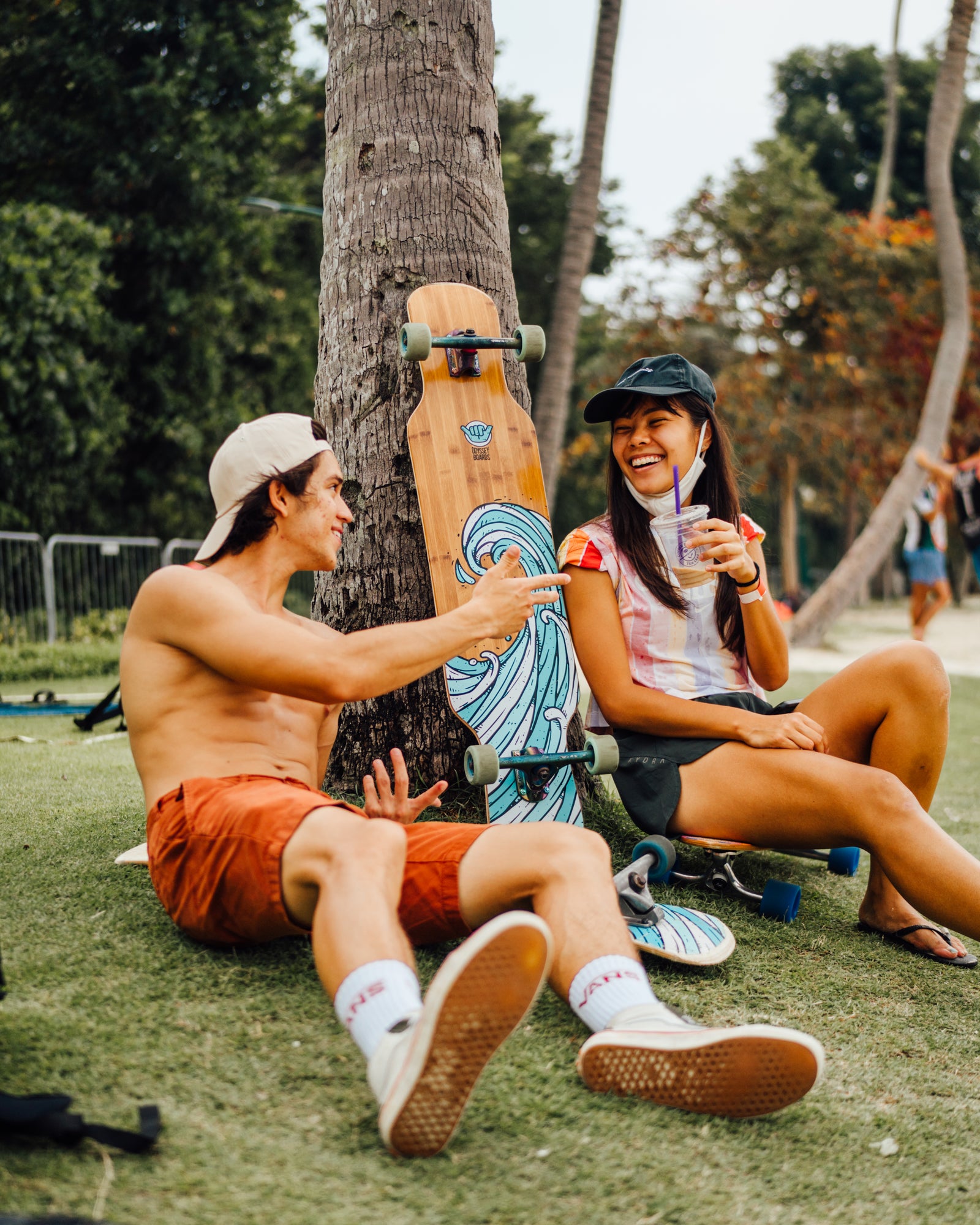 Let's be honest with each other. The reason why you're reading this is probably because you've been thinking of getting a longboard for yourself. But you might still be hesitating whether you will love longboarding as we do. 
In this blog, you'll find 5 reasons why longboards are loved all around the world. Since its inception in Hawaii in 1950s, longboards have become widely popular worldwide. Apart from looking cool by landing all the tricks you see on the internet, there are many other benefits that'll make you fond of this sport. 
Reason 1: An awesome way to destress
With Covid-19 keeping us all locked at home much more than before, we all need outlets to release stress. Working from home (or studying from home if you're still a student) sucks - sometimes we just want to step out and take a breather. But walking, jogging or cycling is just so mainstream.
 
Source: DockSessionSG Facebook
Longboards allow you to explore your surroundings in an entirely new way. Imagine cruising down the beach, enjoying the sunset and the wind in your hair. Not too bad eh? If you're sold, check out our guides on where you can skate in Singapore, and where you can skate AND get good food here.
With a longboard you'll be able to explore either by yourself (which is really therapeutic) or with your friends, which brings us to the next reason.
Reason 2: The community you deserve
You'll love the longboard community here. Longboarders in Singapore (or anywhere around the world, really) are an extremely welcoming bunch. You can always join their skate sessions or drop them a DM to ask them for advice.

Source: Longboard Girls Crew SG Facebook
We've had the privilege to interview a few groups across Singapore - DockSession SG, Longboard Girls Crew SG and our very own customers. Every single member has their own unique story on how they got started, and has met with difficulties along their longboard journey.
So if you're ever in doubt on how you should get started, you can always drop us a message, or reach out to these kind souls! 
Reason 3: Burn those calories
This probably isn't the first thing that comes to mind when we talk about longboarding but damn, it sure burns a load of calories. Longboarding looks simple at first glance - but once you're balancing on the board, carving and throwing in some tricks, you'll be burning through calories faster than you thought. Take a look at how many calories I burnt in one session! That's 
If hitting the treadmill bores you, you'll love longboards. They'll be your new workout buddy.
Reason 4: Get that iron will (and iron shins)
Even as a beginner, learning how to balance on the board requires a certain level of perseverance. You'll fall down a few times, but you have to get back up to continue. Eventually, as you progress onto tricks, the level of perseverance required just gets even higher. All these go a long way in enforcing a never give up attitude. 
Ultimately, longboarding is an iteration of attempting, failing, and getting back up. There will be times when you get hurt, like getting shinners. I'm not exaggerating when I say that this sport has allowed me to maintain a high level of determination in other aspects of my life! You'll learn how to take a step back and break down the different reasons that caused you to fail; then, you'll find a fix and try again. If you've been thinking about building up your perseverance, then longboarding is the sport for you.
Reason 5: Commuting is no longer a chore
Imagine getting packed into the subway train like a can of sardines, or having to stand on the bus that feels like a roller coaster ride. Not that pleasant, right? With a longboard, you no longer have to worry about the peak hour traffic. 

Source: LTA Singapore (you know the rules, and so do I)
Once you get comfortable with your longboard, commuting on it will be a breeze. You'll start noticing small things you miss during your usual commute. And most importantly you won't have to squeeze on board with everyone else. With your longboard, you'll finally start liking that morning commute to school, or to work. 3 cheers for personal space! 
Getting started with Odyssey Boards
At Odyssey Boards, we want to help you get started with longboarding. That's why we've been writing all these guides on our blog to keep you informed. We also handpick all components of our longboards so you're not paying for unnecessary markups. Instead of the average $400 you pay in Singapore for completes, you'll get beautiful, reliable longboards from us starting at $247. 
Click here to browse our longboard collection and get started on your longboard adventure
Nahoa V2 Complete by Odyssey Boards
And if you have any questions, hit us up at info@odysseyboards.com or just drop us a DM at our Instagram Page!
Accelerate your learning with our longboard classes
Looking to push yourself out of your comfort zone? Join our longboard classes, where you'll get undivided attention to maximize progress. Our classes are kept really small - 2 students to 1 instructor. From fundamental lessons to bundled packages to accelerate your longboard dancing, you'll get what you need with our longboard class. Oh, and if you don't have a longboard yet, we even got you covered! 
---